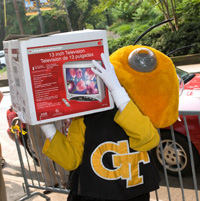 Nov 09, 2009 — Atlanta, GA
Keep Georgia Beautiful recently recognized the Georgia Tech Office of Solid Waste Management and Recycling (OSWM&R) with the Move-In/Move-Out Program with a first place award in the Waste Reduction and Recycling category of the Keep Georgia Beautiful 2009 Awards Program. Cindy Jackson, Manager of the OSWM&R, attended a reception at Emory University on November 5 to accept the award.
Now in its 13th year, the annual Sustainable Move-In/Move-Out Program represents a positive and successful collaboration among several Georgia Tech departments and student organizations and has a significant impact on waste reduction and recycling. A total of 30,578 pounds of materials were diverted through the Sustainable Move-In/Move-Out Program in 2009. 
Georgia Tech houses 8,600 students in 41 residence halls. Each spring when students move out of their dorms, and again in the fall when they move in, there is a surge in waste generation. In the spring, students discard clothes, bedding, household goods, food and paper, and in the fall they discard their moving boxes.  The Georgia Tech Office of Solid Waste
Management & Recycling has developed a program to divert these materials from the landfill.
 Move-in gives freshman students and their families an important first impression of
Georgia Tech, and the programs and services the campus offers. By making the cardboard
and polystyrene foam recycling visible and convenient (with 31 recycling sites across campus
residential areas!), the OSWM&R introduces new students to Georgia Tech's recycling
program and encourages them to participate in recycling on campus from day one. 
 During spring Move-out, students are given the opportunity to discard unwanted items without
contributing to the waste in landfills. Convenient sites are set up where commonly discarded
items (such as paper, non-perishable food, clothing and household goods) are collected for
recycling and reuse, and are donated to several local non-profit organizations such as the Atlanta Community Food Bank.