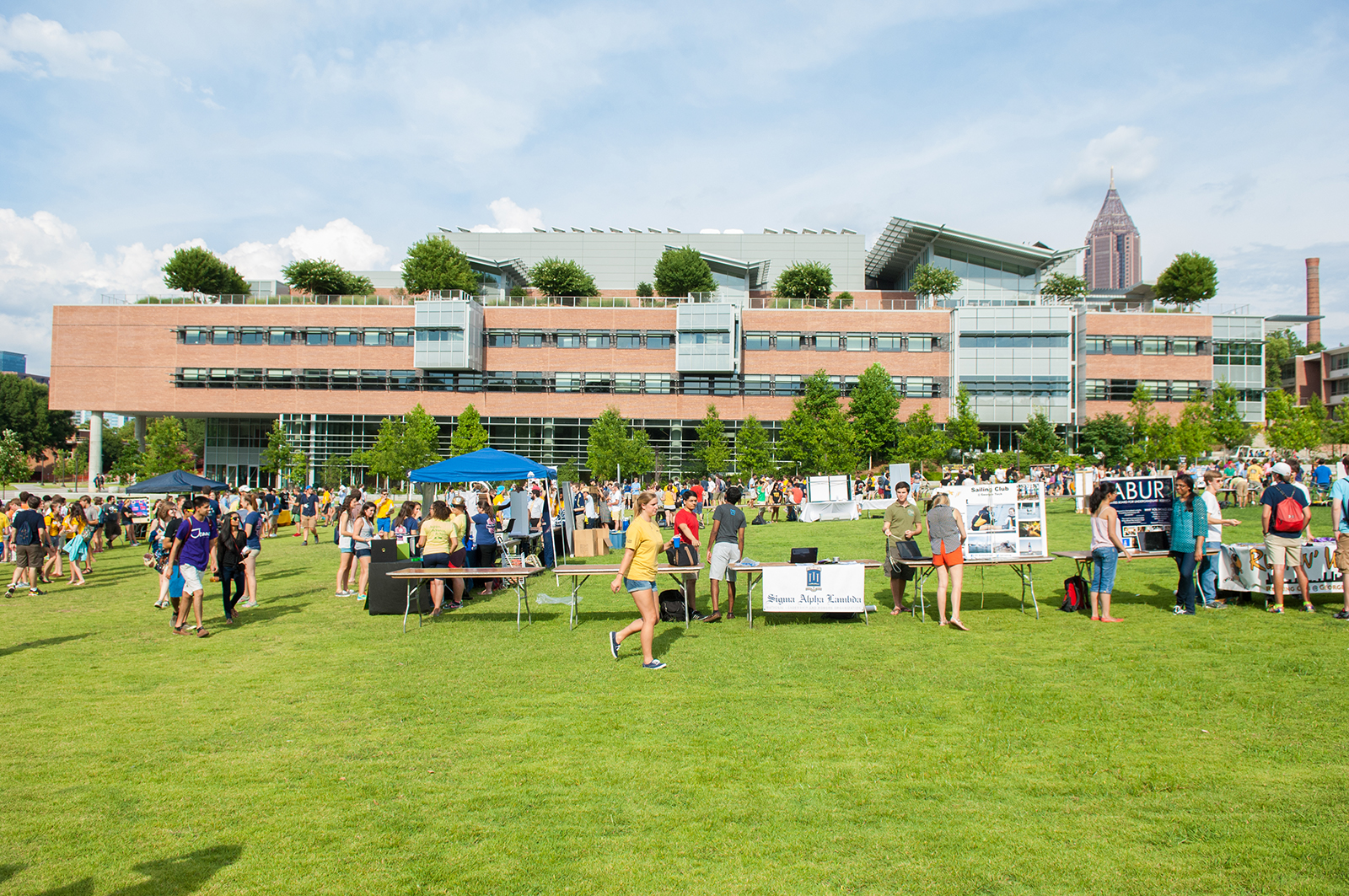 Students, faculty, and staff have an opportunity to be part of Georgia Tech's "Green Buzz." Whether you choose to carpool or recycle your office paper, Georgia Tech supports involvement in green efforts.
Many campus leaders have already forged a path to involvement, and you can join them in creating a greener, more sustainable campus. Below are many extracurricular opportunities. For information about research opportunities, visit our Research page.
If you are already involved in environmental sustainability efforts, we want to hear from you. Please e-mail your information about classes, programs, research, activities, events, and efforts to greenbuzz@gatech.edu.
Learn more about sustainability opportunities, resources, and support from the Office of Campus Sustainability. 
Student Organizations/Involvement Opportunities
Alternative Service Breaks
Organizes trips during school holidays open to the whole student body. Works in partnership with staff in the Office of Leadership and Civic Engagement.
Bike GT
Group of students, faculty, and staff who advocate for and organize improvements to campus bike infrastructure, such as bike racks, lanes, and facilities.
Energy Club
Hosts events for learning and networking related to energy. Events are open to and attended by students, faculty, staff, alumni, and industry professionals.
Engineers for a Sustainable World
Promotes engineering that fosters environmental, social, and economic sustainability to develop sustainable solutions for local, regional, and national problems.
Engineers Without Borders (EWB)
Plan, design, and implement sustainable technology solutions.
HyTech Racing
Student team that competes in the Formula Hybrid International Competition.
Mobilizing Opportunity for Volunteer Experience (MOVE)
Organizes environmentally-oriented service opportunities for Tech students including landscaping, park cleanup, and construction.
Model UN
Tech hosts a two-day conference for high school students on campus every year. Tech students help organize and host the event, educating high schoolers on numerous international issues, including those of sustainability.
Solar Racing
Competition club that explores alternative energy design.
Starter Bikes
A student-run division of Bike GT which helps members of the Georgia Tech community repair their bikes or purchase inexpensive refurbished ones.
Trailblazers
Promotes appreciation for trail adventure and exploration, motivating participants to work towards enhancing and conserving the trail network that exists across the country.
Campus Events
Business, Environment, and Society Speaker Series
The Ray C. Anderson Center for Sustainable Business hosts guest speakers on a monthly basis.
Earth Day Festival
Celebration takes place annually on the Georgia Tech campus.
Game Day Recycling
The Office of Solid Waste Management and Recycling oversees an award-winning recycling program in conjunction with football season.
Ideas to Serve (I2S) Competition
Ideas to Serve is for current Tech students or recent alumni who have an early-stage product or service idea that is geared toward creating a better world.
TEAM Buzz
Annual one-day service event drawing the Tech community together to improve the metro Atlanta area and inspire a passion for community service.
Services
Alternative Transportation
Carpool matching, bike pools, and metro transit are all options for the Tech community.
Zipcar
Car sharing service that offers hourly rentals to run errands or make short trips for those without a car on campus.
Bicycling and Personal Mobility Devices
Online resource for all things bicycle and scooter-related at Georgia Tech.