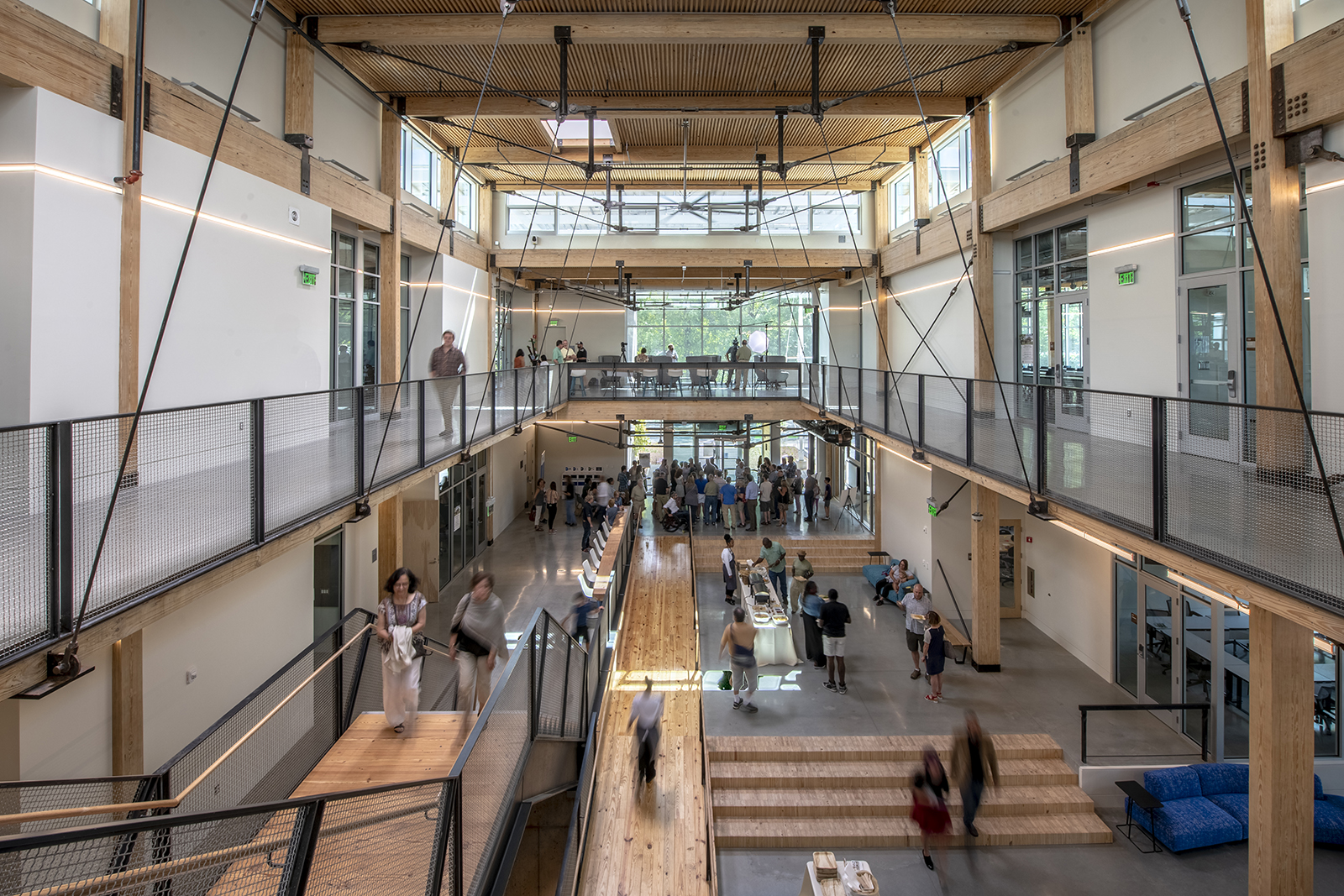 Georgia Tech wrote the book on sustainable building practices with the Georgia Tech Yellow Book.
This document is unique to the Institute and guides architects and engineers in the process of designing new buildings, building additions, and renovations to existing buildings, and incorporating utility and transportation infrastructure improvements.
Many buildings have visible sustainability features: The Clough Undergraduate Learning Commons is topped with more than 300 solar panels and a green roof garden and the Campus Recreation Center boasts a large photovoltaic solar array. Out of sight, a network of underground cisterns captures water to flush toilets in both Clough Commons and the Engineered Biosystems Building. 
And The Kendeda Building for Innovative Sustainable Design is the first building in Georgia and 28th in the world to earn Living Building Challenge certification, the world's most ambitious and holistic green building achievement.
Georgia Tech also boasts an award-winning Green Cleaning Program for its campus facilities and initiatives that engage students within the Department of Housing.
Tech has the following LEED-certified buildings at various levels:
Platinum
Chapin Building
Caddell Building
Clough Undergraduate Learning Commons
Carbon Neutral Energy Solutions Laboratory
Krone Engineered Biosystems Building
Gold
Glenn and Towers Residence Halls, and their connector building
McCamish Pavilion
The Historic Academy of Medicine
Klaus Advanced Computing Building
Zelnak Center
Women's Softball Complex/Mewborn Field
Hinman Research Building
North Avenue Apartments
Old Civil Engineering Building
Fitten Residence Hall
Freeman Residence Hall
Montag Residence Hall
Stephen C. Hall Building
Child Development Center
Silver
Molecular Science and Engineering Building (second and third floor interior buildout)
Scheller College of Business
Ken Byers Tennis Complex
Certified
Joseph B. Whitehead Building (Stamps Health Services)
More accolades for Tech facilities are listed on our Awards page.