Tree Certification Reflects Tech's Canopy Commitment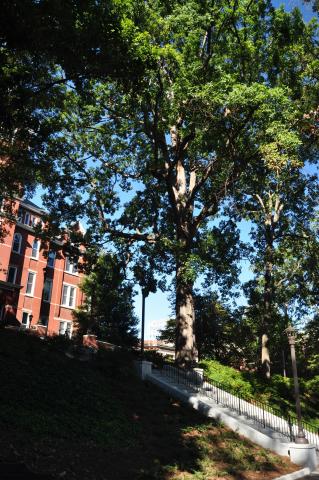 Download image
Feb 20, 2019 — Atlanta, GA
In January, as 13 new trees were being planted in Tech's triangle green space in the center of campus, the Institute also celebrated 11 consecutive years of earning its Tree Campus USA Certification. The plantings and the certification are both testaments to Georgia Tech's commitment to expanding its tree canopy to provide vital environmental services to the city of Atlanta at large. 
"By committing to maintain and grow our tree canopy, Georgia Tech is contributing to a cooler and more resilient city," explained Brian Stone, Ph.D., professor in the School of City and Regional Planning and director of the Urban Climate Lab. 
Trees can benefit urban environments in many ways including reducing heat island effects, sequestering carbon, and even providing a place of rest and reflection for anyone passing through Tech's open campus. As such, Georgia Tech's 2010 Landscape Master Plan included a goal to increase the tree canopy to more than 50 percent. At last count, the campus had increased its coverage to 38 percent, which has only strengthened its place as a certified Tree Campus.
"Tree Campuses set examples for not only their student bodies but the surrounding communities, showcasing how trees create a healthier environment," said Dan Lambe, president of the Arbor Day Foundation. "Because of Georgia Tech's participation, air will be purer, water cleaner, and your students and faculty will be surrounded by the shade and beauty the trees provide."
The Tree Campus USA program honors colleges and universities for effective campus forest management, and engaging staff and students in conservation goals. Georgia Tech achieved the title by meeting the Tree Campus USA's five standards, which include maintaining a tree advisory committee, a campus tree-care plan, dedicated annual expenditures for its campus tree program, an Arbor Day observance, and a student service learning project. 
Most experts agree that the first step to responsible urban forest management is to inventory the forest and then develop a corresponding tree-care plan that provides appropriate care for that forest. Tech conducted its first comprehensive inventory in 2012 and a Tree Management/Care Plan in 2016. The inventory is maintained within geographic information system (GIS) files and includes every tree on campus that is greater than 2 inches in diameter.  
In addition to adhering to core tenets of responsible urban forest management, Georgia Tech employs a dedicated tree team and tracks any tree loss in a Tree Bank. The tree team consists of a certified arborist, a tree surgeon, and a tree specialist. These staff members execute the tree-care plan and support all decisions related to trees throughout campus. The Tree Bank tracking system assures that every tree cut down on campus is replaced, caliper to caliper. 
For more information on Georgia Tech's urban forest management practices, visit facilities.gatech.edu/landscaping.