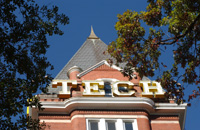 Aug 06, 2010 — Atlanta, GA
The Georgia Institute of Technology is one of 18 colleges and universities named to Princeton Review's 2010 Green Rating Honor Roll for maintaining the most sustainable practices, policies and course offerings among all campuses rated for their environmental friendliness.  This is the third straight year Georgia Tech is being recognized for their efforts on sustainability.
This year more than 700 schools, the most in the magazine's history, submitted environmental information that was scored on a scale of 60 (the lowest possible score) to 99 (the highest possible score). Georgia Tech and the other honor roll schools scored a 99.
Georgia Tech has 21 endowed chairs and more than 100 classes that include sustainability components. Tech also requires all vendors to provide green products.
Since 2007 the Princeton Review, in conjunction with the nonprofit organization ecoAmerica, survey grades colleges and universities on three main criteria: whether students have a quality of life that is healthy and sustainable; how well the school is preparing its students for employment and citizenship in a world defined by environmental challenges; and the institution's overall commitment to environmental issues. The survey also posts questions in 10 areas, such as recycling, energy use, food, buildings, academic offerings, and action plans and goals concerning carbon emission reduction.