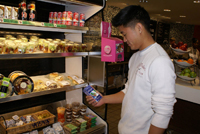 Dec 16, 2008 —
For the first time, the Student Center Food Court, Brittain and Woodruff Dining Halls, and both convenience stores, EastSide and WestSide markets have organic foods, including packaged food products, produce and entrees.
"We saw a demand for organic products so we teamed up with the SOS [Students Organizing for Sustainability] organization and created a committee to see what students would like," said Staci Heck, retail operations director, GT Dining.
While working closely with SOS, GT Dining decided that having local and organic food would benefit many people on campus. There are people with food allergies, special diets, and students who just like organic and appreciate the benefits from all-natural foods.
Last year, GT Dining saw a need to increase vegan, vegetarian and organic foods because of students' suggestions.
In the Student Center Food Court, the Grab n' Go area offers a selection of these foods, including organic yogurt, entrees, fruits and vegetables. Each product that is either vegan, vegetarian or organic has a label showing what kind of food they are buying.
"By having the labels on the different foods, it is easy to see what fits into their diet. It also reduces any confusion as to which food is organic or not," Heck said.
EastSide and WestSide Markets have an entire section that is devoted to organic food. This section is also labeled as
vegan, vegetarian or organic so that students will know what they are getting.
Having these products in the convenience stores also reduces the number of students going off-campus to get their produce or food that could only previously be found in specialty stores.
"So far students have loved the new products and we are really happy to be able to appeal to a bigger group of students. We are always open to any suggestions students may have," Heck added.