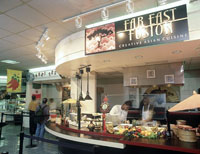 Mar 16, 2009 —
Not so many years ago people might have laughed if told that used vegetable oil could be the fuel powering planes, trains and automobiles. Today that is just one of the environmental programs that GT Dining is working to make a reality.
Take a look at some of the programs GT Dining does and is planning to do on the Georgia Tech campus to promote and protect the environment.
Cooking Oil = Biodiesel Fuel
GT Dining collects its used cooking oil from all its kitchens, including both dining halls (Woodruff and Brittain) and Jackets featuring WOW (World of Wings), filters the used oil, making it cleaner and purer and then transports it off campus to be created into biodiesel fuel.
Biodegradable Containers
Many GT Dining customers are